I'll be in Saskatchewan this weekend and will be performing my
DIVAS: Vegas meets Vaudeville
show in Moose Jaw (Saturday, June 10th—
Click here, or on the poster below, for tickets!
) and Estevan (Sunday, June 11th). See the posters below for more information about showtimes and how to purchase tickets. For those of you wondering what the show is about, click
here
. I'm also posting some unsolicited comments that I received from a couple of people who came to see my DIVAS show for the first time this past Sunday at the Cascades Casino in Langley:
"Bonnie you are absolutely amazing…the energy you put out and the stamina required to do your show is off the charts…Thank you so much for doing what you do…was so much fun to join you on stage last night. And of course a big Thank you to Joe for all the behind the scenes work he does and of course being your wingman—Love your banter with him during the show!!💚💚"
And here's another wonderful comment that I received:
"What an incredible show. Electric energy even though you might be feeling tired. You shine, girl. I see you are at the Cloverdale Legion on June 25…Bringing a gang!! The most amazing performance this side of Vegas. So very fortunate to have seen her, switching celebrities as fast as the rest of us channel surf. See her before Las Vegas claims her for their very best!"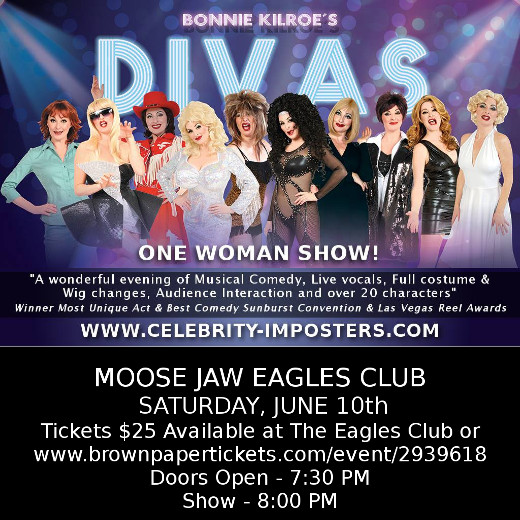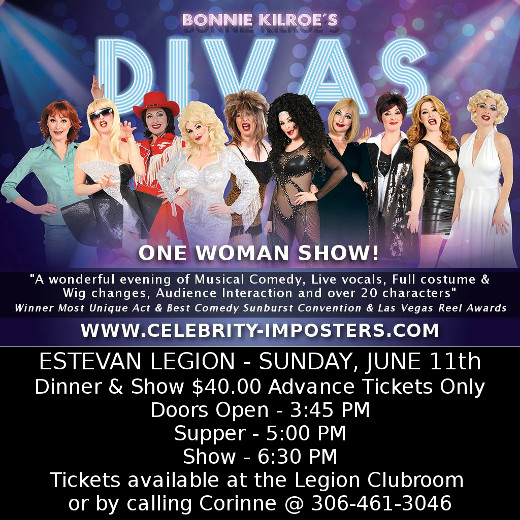 Last night at the Divas show in the Summit Theatre at Cascades Casino, I tried out a few new characters—Miley Cyrus, Diana Ross—and brought back some celebrities I hadn't performed in a while—Bette Midler, most interestingly. The crowd was great and I really enjoyed seeing and meeting some old friends and new friends, who made it out to Langley on a beautiful Sunday evening.
Oh, and I also got to debut my new Marilyn Monroe dress! It's the red one from the opening scene of Gentlemen Prefer Blondes! See the pics below!